Siddhesh Aras, MBBS, PhD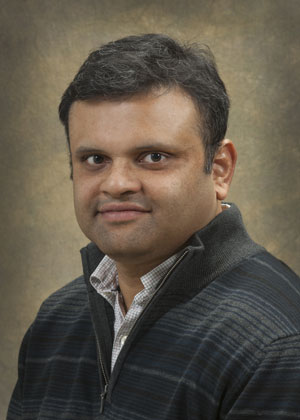 Assistant Professor of Molecular Medicine and Genetics
Scott Hall, 3240
540 E. Canfield Street
Detroit, MI 48201
313-577-5219
Education and Training
University of Mumbai, MBBS, 2001
Residency, Clinical Microbiology, 2004
LSU Health Sciences Center, New Orleans, PhD, 2009
Post-doctoral Fellow, Wayne State University School of Medicine, 2014
Research Interests
Oxidative phosphorylation, Role of mitochondria in infectious diseases, Transcriptional regulation of mitochondrial proteins.
We are mitochondriacs, interested in studying mitochondrial regulation in the pathophysiology of a) Neurodegeneration, b) Cancers, c) Viral infections, and d) genetic diseases. We study a novel bi-organellar protein Mitochondrial-Nuclear Retrograde Regulator 1 (MNRR1) aka CHCHD2. We use genetic, molecular, pharmacological, and biochemical approaches to dissect the functioning of this protein in the regulation of mitochondrial and cellular metabolism.
Research Focus
Cell and Molecular Biology, Biochemistry, Microbiology
Mentoring
Accepting new M.S. students in 2023/2024
Not accepting new Ph.D. students in 2023/2024



Relevant Publications
Online November 30, 2020 (publication #1)
https://www.pnas.org/content/early/2020/11/25/2005877117
      1.  Siddhesh Aras, Neeraja Purandare, Stephanie Gladyck, Mallika Somayajulu-Nitu, Kezhong Zhang, Douglas C.,             and Lawrence I. Grossman. Mitochondrial Nuclear Retrograde Regulator 1 (MNRR1) rescues the cellular                         phenotype of the MELAS by inducing homeostatic mechanisms. Proc Natl Acad Sci (2020, in press).
Siddhesh Aras, Marie-Claire Maroun, Yeohan Song, Sudeshna Bandopadhyay, Azadeh Stark, Zengquan Yang, Michael Long, Lawrence Grossman, and Felix Fernandez-Madrid.,2018. Mitochondrial autoimmunity and MNRR1 in breast carcinogenesis. BMC Cancer 2019 May 2;19(1):411. doi: 10.1186/s12885-019-5575-7
Chen G, Zhou G, Aras S, He Z, Lucas S, Podgorski I, Skar W, Granneman JG, Wang J. Loss of ABHD5 promotes the aggressiveness of prostate cancer cells. Scientific Reports. 2017 Oct 12;7(1):13021. doi: 10.1038/s41598-017-13398-w.
The cellular stress proteins CHCHD10 and MNRR1 (CHCHD2): Partners in mitochondrial and nuclear function and dysfunction. Purandare N, Somayajulu M, Hüttemann M, Grossman LI, Aras S. J Biol Chem. 2018 Mar 14. pii: jbc.RA117.001073. doi: 10.1074/jbc.RA117.001073.
Siddhesh Aras, Minbo Bai, Icksoo Lee, Roger Springett, Maik Hüttemann, Lawrence Grossman. MNRR1 (formerly CHCHD2) is a bi-organellar regulator of mitochondrial metabolism. Mitochondrion. 2014 Oct 11. pii: S1567-7249 (14) 00134-2. Doi: 10.1016/j.mito.2014.10.003.
Siddhesh Aras, Pak Oleg, Natascha Sommer, Russell Finley, Jr., Maik Hüttemann, Norbert Weissmann, Lawrence Grossman. Oxygen-dependent expression of cytochrome c oxidase subunit 4-2 gene expression is mediated by transcription factors RBPJ, CXXC5 and CHCHD2. Nucleic Acids Res. 2013 Feb 1; 41(4): 2255-66. Doi: 10.1093/nar/gks1454. Epub 2013 Jan 8.
PubMed link:
https://pubmed.ncbi.nlm.nih.gov/?term=siddhesh+aras&sort=date