Jeffrey Tseng, PhD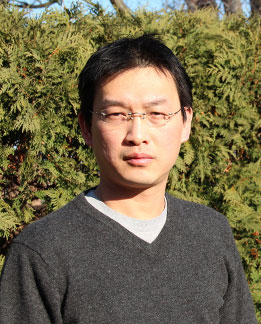 Associate Professor of Molecular Medicine and Genetics and of Biochemistry, Microbiology, and Immunology
Scott Hall, Rm 3206
540 E. Canfield Avenue
Detroit, MI 48201
313-577-0498
ytseng@wayne.edu
Education
University of Illinois at Chicago, PhD, 2006
Research Focus
In our lab, we study protein structure, function, classification and evolution. We use geometric approaches to address biological and medical issues of protein and RNA structures in Structural Biology and Molecular Evolution. We design parallel algorithms to perform large-scale computations on these 3D structures via Beowulf Linux clusters.
Our research focuses on protein structure and function by using protein shape analysis. We are also interested in the areas of surface identification, characterization, and classification, geometric and evolutionary matching techniques, disease-associated non-synonymous single-nucleotide polymorphism (nsSNP), structural variations associated with gene duplication and Knot theory applied in RNA structures. Novel areas of research include the use of high-throughput computing technology for generating millions of surface patches to study protein-protein interactions and geometric modeling for drug discovery.
Recent Publications
Tseng YY, Li WH. PSC: protein surface classification. Nucleic Acids Res. 2012 Jul;40(Web Server issue):W435-9. doi: 10.1093/nar/gks495. Epub 2012 Jun 4. PubMed PMID: 22669905; PubMed Central PMCID: PMC3394246.
Tseng YY, Li WH. Classification of protein functional surfaces using structural characteristics. Proc Natl Acad Sci U S A. 2012 Jan 24;109(4):1170-5. doi: 10.1073/pnas.1119684109. Epub 2012 Jan 11. PubMed PMID: 22238424; PubMed Central PMCID: PMC3268291.
Tseng YY, Li WH. Evolutionary approach to predicting the binding site residues of a protein from its primary sequence. Proc Natl Acad Sci U S A. 2011 Mar 29;108(13):5313-8. doi: 10.1073/pnas.1102210108. Epub 2011 Mar 14. PubMed PMID: 21402946; PubMed Central PMCID: PMC3069214.
Tseng YY, Chen ZJ, Li WH. fPOP: footprinting functional pockets of proteins by comparative spatial patterns. Nucleic Acids Res. 2010 Jan;38(Database issue):D288-95. doi: 10.1093/nar/gkp900. Epub 2009 Oct 30. PubMed PMID: 19880384; PubMed Central PMCID: PMC2808891.