James G. Granneman, PhD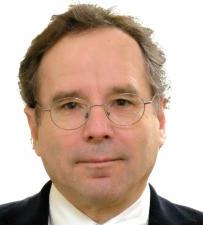 Professor of Molecular Medicine and Genetics and of Internal Medicine
Director, Center for Integrative Metabolic and Endocrine Research (CIMER)
Integrative Biosciences Center, Room 2414
6135 Woodward Avenue
Detroit, MI 48202
313-577-5629
james.granneman@wayne.edu
Education
University of Massachusetts, PhD, 1981
Research Focus
Adipose tissue cell and molecular biology. Therapeutic adipose tissue remodeling. Single cell functional genomics.  Molecular biology and biophysics of lipolysis activation.  Co-evolution of lipid droplet binding proteins. Molecular pharmacology of ABHD5, a novel therapeutic target for metabolic disease and cancer.
Mentoring
Accepting new M.S. students in 2023/2024
Accepting new Ph.D. students in 2023/2024
Recent Representative Publications
EA Rondini and Granneman JG. Single cell approaches to address adipose tissue stromal cell heterogeneity. Biochem J.:477(3):583-600. 2020
M. Varghese, Kimler VA, Ghazi FR, Rathore GK, Perkins GA, Ellisman MH, Granneman JG. Adipocyte lipolysis affects Perilipin 5 and cristae organization at the cardiac lipid droplet-mitochondrial interface. Sci Rep 18;9(1):4734, 2019
A Yang, EP Mottillo, L Mladenovic, L Zhou and JG Granneman. Dynamic interactions of ABHD5 with PNPLA3 regulate triacylglycerol metabolism in brown adipocytes. Nature Metabolism DOI 10.1038/s42255-019-0066-3, 2019.
RB Burl, VD Ramseyer, EA Ronfini, R Pique-Regi, Y-H Lee and JG Granneman. Deconstructing adipogenesis induced by b3-adrenergic receptor activation with single-cell expression profiling. Cell Metabolism, 28:300-309, 2018.
EA Rondini, L Mladenovic-Lucas, WR Roush, G Halvorsen, AE Green, and JG Granneman. Novel pharmacological probes reveal ABHD5 as a locus of lipolysis control in white and brown adipocytes. J Pharm Exp Ther 363:367-376, 2017.
JG Granneman, VA Kimler, H Zhang, X Ye, X Luo, JH Postlethwait and R Thummel. Lipid droplet biology and evolution Illuminated by the characterization of a novel perilipin in teleost fish. eLife, 6.pii:e21771, 2017.
O Muzik, TJ Manger, WR Leonard, A Kumar and JG Granneman.  Sympathetic innervation of cold-activated brown and white fat in lean young adults. J Nucl Med, 58:799-806, 2017.
MS Sanders, F Madoux, L Mladenovic, H Zhang, X Ye, M Angrish, EP Mottillo, JA Caruso, G   Halvorsen, WR Roush, P Chase, P Hodder and JG Granneman. Endogenous and synthetic ABHD5 ligands regulate ABHD5-perilipin interaction and lipolysis in fat and muscle. Cell Metabolism, 2:851-60, 2015.
Y-H Lee, AP Petkova, AA Konkar and JG Granneman. Cellular origins of cold-induced brown adipocytes in adult mice. FASEB J. 29: 286-299, 2015.