news
Molecular Medicine and Genetics faculty member Francesca Luca, Ph.D., named Outstanding Graduate Mentor
Former CMMG graduate student Roberto Mendez (thesis advisor Prof. Kezhong Zhang) has started a faculty position at the University of Wisconsin-Madison as Assistant Professor of Pediatrics. He will also serve as Director of Biochemical Genetics at the Wisconsin State Laboratory of Hygiene.
Paul Morse was selected as a speaker at the upcoming Mitochondria and Chloroplasts Gordon Research Conference. Paul is an MD-PhD student carrying out his thesis research in the laboratory of Prof. Maik Hüttemann.
This year the Center's Genetic Counseling Program graduated its 20th class.
Prof. ​Kezhong Zhang serves as Co-I of an NIH-funded project that will study modified sugar compounds in suppressing Alzheimer's disease. The project includes the WSU Department of Chemistry and Michigan State University.
Upcoming Events
For more information email Suzanne Shaw 
11 a.m., 2268 Scott Hall
CMMG Seminar Series: Neeraja Purandare, PhD
Spotlight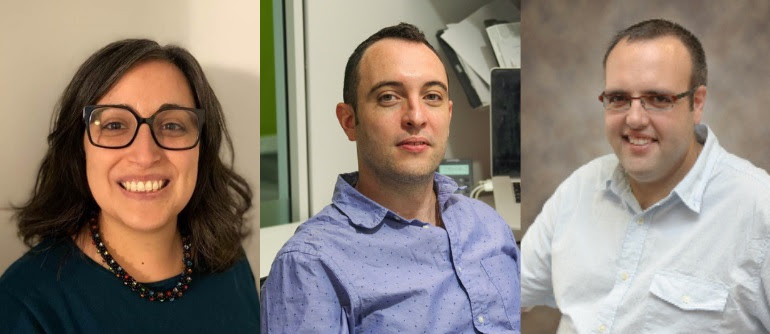 CMMG faculty members Francesca Luca and Roger Pique-Regi examine how environment and genetics together shape the health of children with asthma.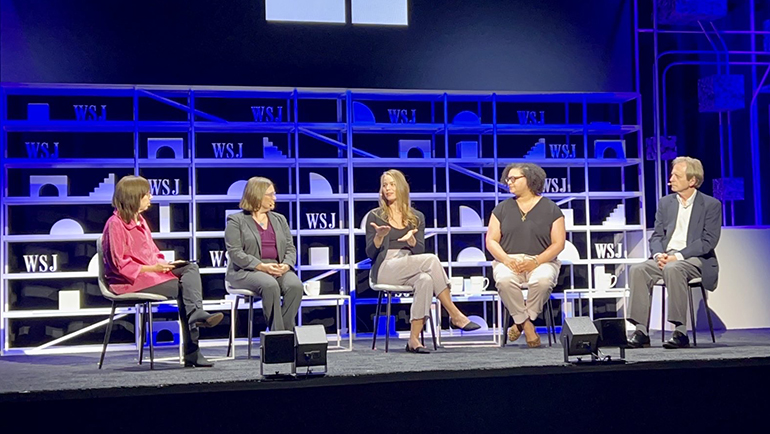 CMMG professor Stephen Krawetz discusses fertility's new frontier at Wall Street Journal's Future of Everything Festival.
CMMG scientists discover new stress hormone that counteracts metabolic disorders. Professor Kezhong Zhang, Ph.D. (center) and team members Hyunbae Kim, Ph.D. (left) and Zhenfeng Song, Ph.D.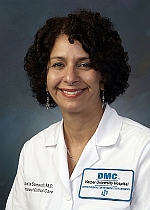 Lobelia Samavati, MD, and her team have discovered a new diagnostic of tuberculosis infection.
Recent research
Metformin, phenformin, and galegine inhibit complex IV activity and reduce glycerol-derived gluconeogenesis. LaMoia TE, Butrico GM, Kalpage HA,  Goedeke L, Hubbard BT, Vatner DF, Gaspar RC, Zhang X-M, Cline GW,  Nakahara K, Woo S, Shimada A, Hüttemann M, Shulman GI. Proc. Nat. Acad. Sci. USA. 2022; 119: e2122287119.
Intraperitoneal Triamcinolone Reduces Postoperative Adhesions, Possibly through Alteration of Mitochondrial Function. Purandare N, Kramer KJ, Minchella P, Ottum S, Walker C, Rausch J, Chao CR, Grossman LI, Aras S, Recanati MA. J Clin Med. 2022;  11, 301. https://doi.org/10.3390/jcm11020301.
Discovery of Novel Transketolase Epitopes and the Development of IgG-Based Tuberculosis Serodiagnostics. Talreja J, Peng C, Nguyen TM, Draghici S, Samavati L. Microbiol Spectr. 2023 Jan 18:e0337722. doi: 10.1128/spectrum.03377-22. 
The New Year of Systems Biology in Reproductive Medicine. Krawetz SA. 2023. Sys Biol Reprod Med.13:1-2. doi: 10.1080/19396368.2023.2156032. 
Analysis of transcriptional changes in the immune system associated with pubertal development in a longitudinal cohort of children with asthma. Resztak JA, Choe J, Nirmalan S, Wei J, Bruinsma J, Houpt R, Alazizi A, Mair-Meijers HE, Wen X, Slatcher RB, Zilioli S, Pique-Regi R, Luca F. 2023. Nat Commun. Jan 16;14(1):230. doi: 10.1038/s41467-022-35742-z.
A hepatokine derived from the ER protein CREBH promotes triglyceride metabolism by stimulating lipoprotein lipase activity. Kim H, Song Z, Zhang R, Davies BSJ, Zhang K. 2023. Sci Signal. Jan 17;16(768):eadd6702. doi: 10.1126/scisignal.add6702.
MNRR1 is a driver of ovarian cancer progression. Chehade H, Purandare N, Fox A, Adzibolosu N, Jayee S, Singh A, Tedja R, Gogoi R, Aras S, Grossman LI, Mor G, Alvero AB. 2023. Transl Oncol. Jan 13;29:101623. doi: 10.1016/j.tranon.2023.101623. 
Probabilistic integration of transcriptome-wide association studies and colocalization analysis identifies key molecular pathways of complex traits. Okamoto J, Wang L, Yin X, Luca F, Pique-Regi R, Helms A, Im HK, Morrison J, Wen X. 2023.Am J Hum Genet Jan 5;110(1):44-57. doi: 10.1016/j.ajhg.2022.12.002.
Hepatic SEL1L-HRD1 ER-associated degradation regulates systemic iron homeostasis via ceruloplasmin. Thepsuwan P, Bhattacharya A, Song Z, Hippleheuser S, Feng S, Wei X, Das NK, Sierra M, Wei J, Fang D, Huang YM, Zhang K, Shah YM, Sun S. 2023. Proc Natl Acad Sci U S A. https://doi.org/10.1073/pnas.2212644120