Li Li, PhD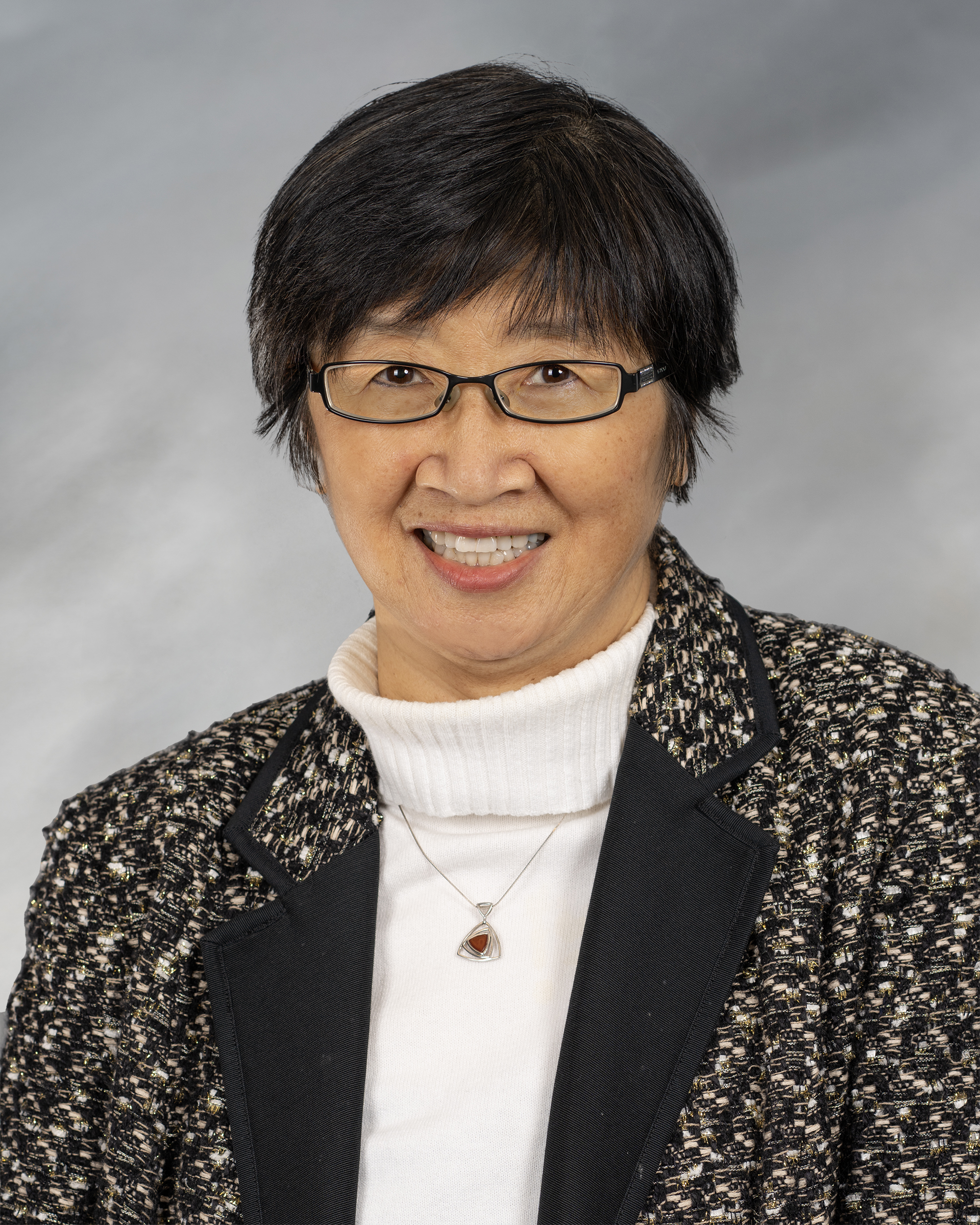 Professor of Molecular Medicine and Genetics and of Internal Medicine; Cardiovascular Research Institute
Elliman Building, Rm 2146
421 E. Canfield Avenue
Detroit, MI 48201
313-577-8749
lili@med.wayne.edu
Education
University of Science and Technology of China (USTC), B.S., 1985
University of Texas Health Science Ctr. at Houston (GSBS), PhD, 1991
University of Texas M.D. Anderson Cancer Center, Postdoctor, 1995
Southwestern Medical Center at Dallas, Postdoctor, 1996
Research Focus
A brief description of the research interests in Dr. Li Li's laboratory
The research program in Dr. Li Li's laboratory is centered on understanding the molecular mechanisms of smooth muscle dysfunction in the pathogenesis of vascular diseases especially aortic aneurysms and atherosclerosis. The ultimate goal of our research is to discover biomarkers for the diagnosis and treatment of aneurysm dissection and rupture and atherosclerosis progression. We recently generated a new mouse aneurysm rupture model that contains a FBN1 mutation found in Marfan patients. Our current research focuses on the discovery of key signal pathways and biomarkers in regulating transcription regulatory network in response to FBN1 mutation and metabolic stress. We are particularly interested in molecular mechanisms of defective ECM-cytoskeleton interaction in inflammation, oxidative stress and osteochondrogenesis during the pathogenesis of vascular diseases using tissue culture and mouse vascular diseases models.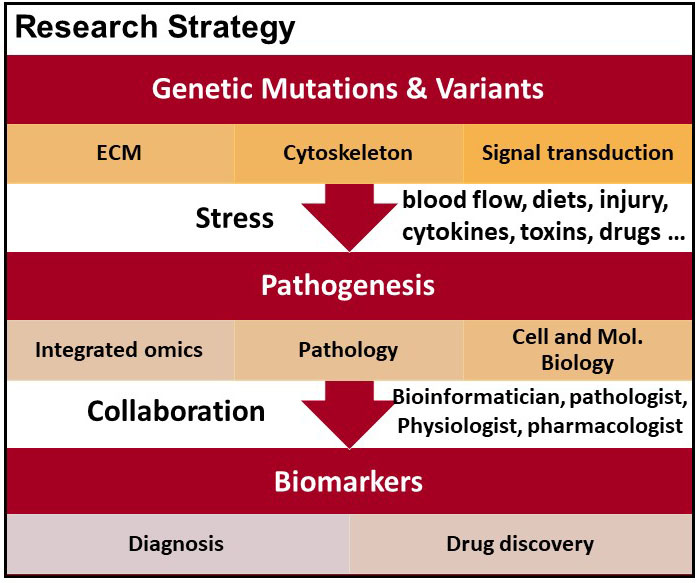 Current Research
Interplay of cytoskeleton protein, epigenetic factors and key signal transducing pathways in the regulation of smooth muscle gene transcription.
ECM-cytoskeleton remodeling in smooth muscle dedifferentiation
High fat diet induced metabolic stress in vascular diseases.
FBN1 mutation-induced metabolic dysfunction in Marfan syndrome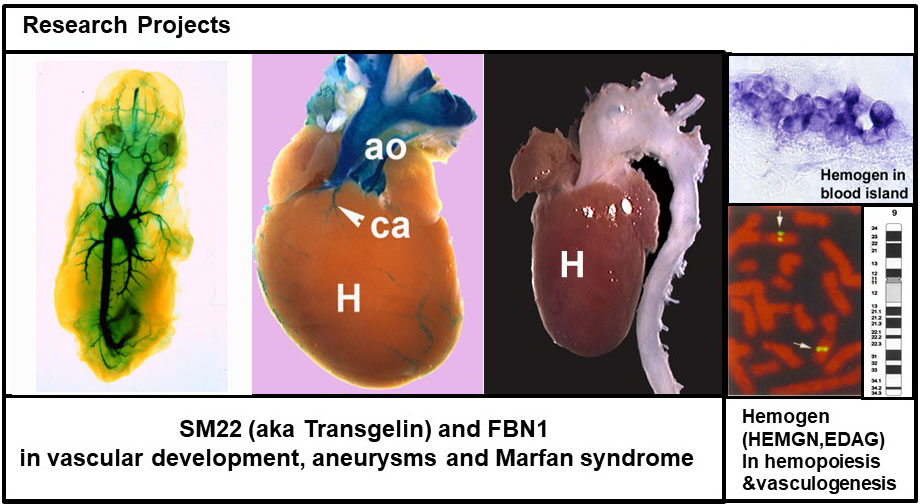 The role of Hemogen in hematopoiesis and immune responses. 
We welcome motivated graduate students and postdoctors to join in our lab research projects!
Mentoring
Accepting new M.S. students in 2023/2024
Accepting new Ph.D. students in 2023/2024
Selected Publications
Seeburun S, Wu S, Hemani D, Pham L, Ju D, Xie Y, Kata P, Li L. Insights into elastic fiber fragmentation: Mechanisms and treatment of aortic aneurysm in Marfan syndrome. Vascul Pharmacol. 2023 Aug 26;153:107215. doi: 10.1016/j.vph.2023.107215. PMID: 37640090.

Zheng JP, He X, Liu F, Yin S, Wu S, Yang M, Zhao J, Dai X, Jiang H, Yu L, Yin Q, Ju D, Li C, Lipovich L, Xie Y, Zhang K, Li HJ, Zhou J, Li L. YY1 directly interacts with myocardin to repress the triad myocardin/SRF/CArG box-mediated smooth muscle gene transcription during smooth muscle phenotypic modulation. Sci Rep. 2020 Dec 11;10(1):21781. doi: 10.1038/s41598-020-78544-3. PubMed PMID: 33311559; PubMed Central PMCID: PMC7732823.
Wang H, Ju D, Kho DH, Yang H, Li L, Raz A, Sun F, Xie Y. The ubiquitin specific protease USP34 protects the ubiquitin ligase gp78 from proteasomal degradation. Biochem Biophys Res Commun. 2019 Feb 5;509(2):348-353. doi: 10.1016/j.bbrc.2018.12.141. Epub 2018 Dec 22. PubMed PMID: 30585151.
Dai X, Thiagarajan D, Fang J, Shen J, Annam NP, Yang Z, Jiang H, Ju D, Xie Y, Zhang K, Tseng YY, Yang Z, Rishi AK, Li HJ, Yang M, Li L. SM22α suppresses cytokine-induced inflammation and the transcription of NF-κB inducing kinase (Nik) by modulating SRF transcriptional activity in vascular smooth muscle cells. PLoS One. 2017;12(12):e0190191. doi: 10.1371/journal.pone.0190191. eCollection 2017. PubMed PMID: 29284006; PubMed Central PMCID: PMC5746259.
Wang JM, Qiu Y, Yang ZQ, Li L, Zhang K. Inositol-Requiring Enzyme 1 Facilitates Diabetic Wound Healing Through Modulating MicroRNAs. Diabetes. 2017 Jan;66(1):177-192. doi: 10.2337/db16-0052. Epub 2016 Sep 15. PubMed PMID: 27634225; PubMed Central PMCID: PMC5204310.
Zheng Z, Wang G, Li L, Tseng J, Sun F, Chen X, Chang L, Heng H, Zhang K. Transcriptional signatures of unfolded protein response implicate the limitation of animal models in pathophysiological studies. Environ Dis. 2016;1(1):24-30. doi: 10.4103/2468-5690.180333. Epub 2016 Apr 14. PubMed PMID: 28265594; PubMed Central PMCID: PMC5336312.
Dai X, Shen J, Annam NP, Jiang H, Levi E, Schworer CM, Tromp G, Arora A, Higgins M, Wang XF, Yang M, Li HJ, Zhang K, Kuivaniemi H, Li L. SMAD3 deficiency promotes vessel wall remodeling, collagen fiber reorganization and leukocyte infiltration in an inflammatory abdominal aortic aneurysm mouse model. Sci Rep. 2015 May 18;5:10180. doi: 10.1038/srep10180. PubMed PMID: 25985281; PubMed Central PMCID: PMC4434993.
Xu YP, Shi Y, Cui ZZ, Jiang HH, Li L, Wang XF, Zhou L, Mi QS. TGFβ/Smad3 signal pathway is not required for epidermal Langerhans cell development. J Invest Dermatol. 2012 Aug;132(8):2106-9. doi: 10.1038/jid.2012.71. Epub 2012 Mar 22. PubMed PMID: 22437318; PubMed Central PMCID: PMC3398167.
Xu Z, Ji G, Shen J, Wang X, Zhou J, Li L. SOX9 and myocardin counteract each other in regulating vascular smooth muscle cell differentiation. Biochem Biophys Res Commun. 2012 Jun 1;422(2):285-90. doi: 10.1016/j.bbrc.2012.04.149. Epub 2012 May 3. PubMed PMID: 22580282; PubMed Central PMCID: PMC3448976.
Lillvis JH, Erdman R, Schworer CM, Golden A, Derr K, Gatalica Z, Cox LA, Shen J, Vander Heide RS, Lenk GM, Hlavaty L, Li L, Elmore JR, Franklin DP, Gray JL, Garvin RP, Carey DJ, Lancaster WD, Tromp G, Kuivaniemi H. Regional expression of HOXA4 along the aorta and its potential role in human abdominal aortic aneurysms. BMC Physiol. 2011 May 31;11:9. doi: 10.1186/1472-6793-11-9. PubMed PMID: 21627813; PubMed Central PMCID: PMC3125234.
Shen J, Yang M, Jiang H, Ju D, Zheng JP, Xu Z, Liao TD, Li L. Arterial injury promotes medial chondrogenesis in Sm22 knockout mice. Cardiovasc Res. 2011 Apr 1;90(1):28-37. doi: 10.1093/cvr/cvq378. Epub 2010 Dec 22. PubMed PMID: 21183509; PubMed Central PMCID: PMC3058734.
Shen J, Yang M, Ju D, Jiang H, Zheng JP, Xu Z, Li L. Disruption of SM22 promotes inflammation after artery injury via nuclear factor kappaB activation. Circ Res. 2010 Apr 30;106(8):1351-62. doi: 10.1161/CIRCRESAHA.109.213900. Epub 2010 Mar 11. PubMed PMID: 20224039; PubMed Central PMCID: PMC2896867.
Zheng JP, Ju D, Shen J, Yang M, Li L. Disruption of actin cytoskeleton mediates loss of tensile stress induced early phenotypic modulation of vascular smooth muscle cells in organ culture. Exp Mol Pathol. 2010 Feb;88(1):52-7. doi: 10.1016/j.yexmp.2009.10.006. Epub 2009 Oct 27. PubMed PMID: 19874818; PubMed Central PMCID: PMC2815224.
Yang M, Jiang H, Li L. Sm22α transcription occurs at the early onset of the cardiovascular system and the intron 1 is dispensable for its transcription in smooth muscle cells during mouse development. Int J Physiol Pathophysiol Pharmacol. 2010;2(1):12-9. Epub 2009 Nov 22. PubMed PMID: 20428474; PubMed Central PMCID: PMC2860299.
Qiu P, Ritchie RP, Fu Z, Cao D, Cumming J, Miano JM, Wang DZ, Li HJ, Li L. Myocardin enhances Smad3-mediated transforming growth factor-beta1 signaling in a CArG box-independent manner: Smad-binding element is an important cis element for SM22alpha transcription in vivo. Circ Res. 2005 Nov 11;97(10):983-91. doi: 10.1161/01.RES.0000190604.90049.71. Epub 2005 Oct 13. PubMed PMID: 16224064.
Xu R, Ho YS, Ritchie RP, Li L. Human SM22 alpha BAC encompasses regulatory sequences for expression in vascular and visceral smooth muscles at fetal and adult stages. Am J Physiol Heart Circ Physiol. 2003 Apr;284(4):H1398-407. doi: 10.1152/ajpheart.00737.2002. Epub 2003 Jan 9. PubMed PMID: 12521938.
Gong XQ, Li L. Dermo-1, a multifunctional basic helix-loop-helix protein, represses MyoD transactivation via the HLH domain, MEF2 interaction, and chromatin deacetylation. J Biol Chem. 2002 Apr 5;277(14):12310-7. doi: 10.1074/jbc.M110228200. Epub 2002 Jan 23. PubMed PMID: 11809751.
Yang LV, Nicholson RH, Kaplan J, Galy A, Li L. Hemogen is a novel nuclear factor specifically expressed in mouse hematopoietic development and its human homologue EDAG maps to chromosome 9q22, a region containing breakpoints of hematological neoplasms. Mech Dev. 2001 Jun;104(1-2):105-11. doi: 10.1016/s0925-4773(01)00376-8. PubMed PMID: 11404085.
Li L, Miano JM, Mercer B, Olson EN. Expression of the SM22alpha promoter in transgenic mice provides evidence for distinct transcriptional regulatory programs in vascular and visceral smooth muscle cells. J Cell Biol. 1996 Mar;132(5):849-59. doi: 10.1083/jcb.132.5.849. PubMed PMID: 8603917; PubMed Central PMCID: PMC2120743.
Li L, Miano JM, Cserjesi P, Olson EN. SM22 alpha, a marker of adult smooth muscle, is expressed in multiple myogenic lineages during embryogenesis. Circ Res. 1996 Feb;78(2):188-95. doi: 10.1161/01.res.78.2.188. PubMed PMID: 8575061.
Li L, Cserjesi P, Olson EN. Dermo-1: a novel twist-related bHLH protein expressed in the developing dermis. Dev Biol. 1995 Nov;172(1):280-92. doi: 10.1006/dbio.1995.0023. PubMed PMID: 7589808.