Wayne D. Lancaster, PhD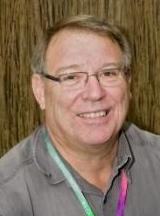 Professor Emeritis of Molecular Medicine and Genetics and of Obstetrics and Gynecology
lancaster@wayne.edu
Education
Wayne State University, PhD, 1973
Research Focus
Papillomaviruses: molecular biology, evolution, and role in human carcinogenesis; cancer cell genome instability; ovarian carcinogenesis
Recent Publications
Antwih DA, Gabbara KM, Lancaster WD, Ruden DM, Zielske SP. Radiation-induced epigenetic DNA methylation modification of radiation-response pathways. Epigenetics. 2013 Aug;8(8):839-48. doi: 10.4161/epi.25498. Epub 2013 Jun 27. PubMed PMID: 23880508; PubMed Central PMCID: PMC3883787.
Lillvis JH, Erdman R, Schworer CM, Golden A, Derr K, Gatalica Z, Cox LA, Shen J, Vander Heide RS, Lenk GM, Hlavaty L, Li L, Elmore JR, Franklin DP, Gray JL, Garvin RP, Carey DJ, Lancaster WD, Tromp G, Kuivaniemi H. Regional expression of HOXA4 along the aorta and its potential role in human abdominal aortic aneurysms. BMC Physiol. 2011 May 31;11:9. doi: 10.1186/1472-6793-11-9. PubMed PMID: 21627813; PubMed Central PMCID: PMC3125234.
Ye CJ, Stevens JB, Liu G, Bremer SW, Jaiswal AS, Ye KJ, Lin MF, Lawrenson L, Lancaster WD, Kurkinen M, Liao JD, Gairola CG, Shekhar MP, Narayan S, Miller FR, Heng HH. Genome based cell population heterogeneity promotes tumorigenicity: the evolutionary mechanism of cancer. J Cell Physiol. 2009 May;219(2):288-300. doi: 10.1002/jcp.21663. PubMed PMID: 19115235; PubMed Central PMCID: PMC2778062.
Stark A, Gregoire L, Pilarski R, Zarbo A, Gaba A, Lancaster WD. Human papillomavirus, cervical cancer and women's knowledge. Cancer Detect Prev. 2008;32(1):15-22. doi: 10.1016/j.cdp.2008.02.002. Epub 2008 Apr 10. PubMed PMID: 18406069; PubMed Central PMCID: PMC2481234.
Tromp G, Ogata T, Gregoire L, Goddard KA, Skunca M, Lancaster WD, Parrado AR, Lu Q, Shibamura H, Sakalihasan N, Limet R, Mackean GL, Arthur C, Sueda T, Kuivaniemi H. HLA-DQA is associated with abdominal aortic aneurysms in the Belgian population. Ann N Y Acad Sci. 2006 Nov;1085:392-5. PubMed PMID: 17182961.