Jaime Stafford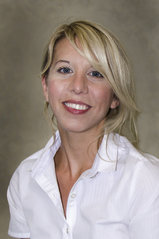 BA in Anthropology
Currently a fourth year MGG PhD student
My academic career began with a bachelor's degree of Arts in Anthropology, after which I moved abroad to teach English for a period of time. While I loved to travel and learn languages, I always had a real fascination with genetics, since I believe that it is a field that is exciting, challenging, and requires creativity. I therefore, decided to pursue my passion and obtained a Master's of science at University College London, (UK) in "Genetics of Human Disease", with highest honors.
At UCL, I researched Insulin like Growth Factor 1 gene expression in first term placenta as a predictive bio-marker of fetal growth. After which, I finally returned to Detroit, Michigan to begin my PhD at Wayne State University. The focus of my research at Wayne State is the genetics of hereditary breast and ovarian cancer. I hope to discover novel variants that predispose women to ovarian cancer for more informed prediction, prevention and targeted therapy in clinical cancer care. In addition, my goal is to develop an assay that can be used to accurately assess the functional consequences of variants of unknown significance, so that patients with private, unsubscribed mutations may have better guidance in their decision making.
After completion of my PhD, I hope to find a post-doctoral position as a Clinical Molecular Genetics Fellow.
Advisor: Michael A. Tainsky, PhD