Tiffany Cook, PhD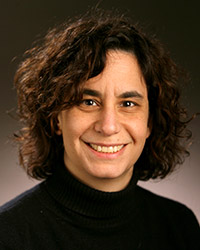 Associate Professor of Molecular Medicine and Genetics and of Ophthalmology
Scott Hall, Rm 3206
540 E. Canfield Avenue
Detroit, MI 48201
313-577-9461
Email
Education and Training:
Mayo Graduate School, Rochester MN, PhD, 1997
Research Focus
Molecular basis of eye development and disease; differentiation and maintenance of neuronal and non-neuronal cell types in the Drosophila retina; glial support mechanisms; cell-specific transcriptional regulatory mechanisms; cell-cell interactions involved in sensory system development and function.
Recent Publications
Cook TA. Hypo- or hyper-hippo: a balancing act with bHLH transcription factors. Dev Cell. 2015 Jan 26;32(2):133-5.
Luebbering N, Charlton-Perkins M, Kumar JP, Lochead PA, Rollmann SM, Cook T, Cleghon V. Drosophila Dyrk2 plays a role in the development of the visual system. PLoS One. 2013 Oct 11;8(10):e76775.
Jukam D, Xie B, Rister J, Terrell D, Charlton-Perkins M, Pistillo D, Gebelein B, Desplan C, and Cook T. Opposite network-level feedback in the Hippo pathway for growth regulation and post-mitotic neural fate.  Science 2013; 342(6155):1238016. 
Riazuddin S, Belyantseva IA, Giese AP, Lee K, Indzhykulian AA, Nandamuri SP, Yousaf R, Sinha GP, Lee S, Terrell D, Hegde RS, Ali RA, Anwar S, Andrade-Elizondo PB, Sirmaci A, Parise LV, Basit S, Wali A, Ayub M, Ansar M, Ahmad W, Khan SN, Akram J, Tekin M, Riazuddin S, Cook T, Buschbeck EK, Frolenkov GI, Leal SM, Friedman TB, Ahmed ZM. Alterations of the CIB2 calcium- and integrin-binding protein cause Usher syndrome type 1J and nonsyndromic deafness DFNB48. Nat Genet. 2012 Nov;44(11):1265-71.
Li-Kroeger D, Cook TA, Gebelein B. Integration of an abdominal Hox complex with Pax2 yields cell-specific EGF secretion from Drosophila sensory precursor cells. Development. 2012 May;139(9):1611-9.
Terrell D, Xie B, Workman M, Mahato S, Zelhof A, Gebelein B, Cook T. OTX2 and CRX rescue overlapping and photoreceptor-specific functions in the Drosophila eye. Dev Dyn. 2012 Jan;241(1):215-28.
Charlton-Perkins M, Brown NL, Cook TA. The lens in focus: a comparison of lens development in Drosophila and vertebrates. Mol Genet Genomics. 2011 Oct;286(3-4):189-213.
Charlton-Perkins M, Whitaker SL, Fei Y, Xie B, Li-Kroeger D, Gebelein B, Cook T. Prospero and Pax2 combinatorially control neural cell fate decisions by modulating Ras- and Notch-dependent signaling. Neural Dev. 2011 May 3;6:20.
Cook T, Zelhof A, Mishra M, Nie J. 800 facets of retinal degeneration. Prog Mol Biol Transl Sci. 2011;100:331-68.
View "My Bibliography" from NCBI